Discover more from Substack Reads
Your guide to great writing happening on Substack, plus the home of "The Active Voice," a podcast by Hamish McKenzie.
Hello and welcome to another Substack Reads! This week, we learn about the secret inner life of owls with biologist Bill Davison; remember a scarring summer of cut horse tails, written by Holly Huitt; Boston's mayor, Michelle Wu, writes about her approach to dealing with the city's tent populations; and Michael Procopio lauds the late-summer tomato-water tipple he can't get enough of. Enjoy!
NATURE
Owls are bewildering, and now is a good time to be a little more bewildered, writes wildlife photographer, biologist, and farmer Bill Davison
—
in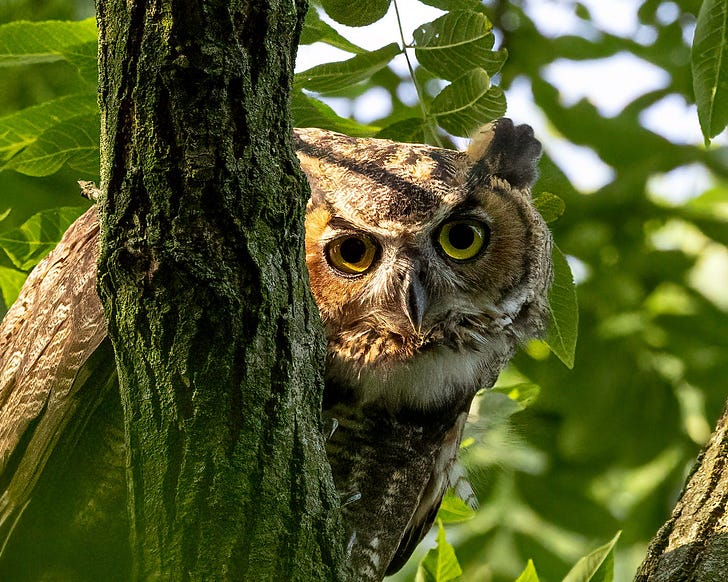 The prevailing notion is that one owl's hoot is like another's. That is, until researchers teamed up with a Baroque musician to prove otherwise. Marjon Savelsberg was trained as a classical musician, and she could discern very fine distinctions in the pitch, tempo, rhythm, and quality of owl calls. When combined with modern artificial intelligence algorithms to sort through large data sets, she was able to figure out that each owl had a signature call. The owls hear variations in the calls that we cannot detect. We hear hoots while the owls are having a nuanced conversation and sorting out who is nearby and what they are up to.  

Gail Buhl with the Raptor Center at the University of Minnesota is another person who has helped illuminate what owls are really like. She has spent 30 years caring for owls. She describes the prevailing view among falconers that owls are slow on the uptake. She realized that the issue is that owls are subtle and hard to read, and most people are not good at interpreting their behavior. You have to be patient and in tune with them to understand them. It does not help that we are often loud, insensitive, and blundering around in bright light. 
NFL
Looking at 2023's breakout players, Alberto Cantù writes about the man who will make the Falcons' Bijan Robinson and Kyle Pitts's high-octane offense sing
—
in
It's no secret the Atlanta Falcons are building one of the wackiest, most creative offenses in recent NFL history. 

In his quest to reach some sense of avant-garde football, head coach Arthur Smith has done everything in his power to get his hands on all of the hyper-athletic, hyper-versatile players in the league on the offensive side of the ball. Through the draft, free agency, and the trade market, the Falcons' head coach and the team's GM, Terry Fontenot, have left no stone unturned to fulfill their vision. 
FIRST-PERSON
James Hunt reads aloud his post on bonding with his two boys when they seemed lost in their own world
—
in
If you've watched any of our videos online, you might not realise that years ago, the level of interaction I had with Jude and Tommy was minimal. I receive many messages praising the bond I seem to have with my boys, and how in tune I am with them. But it wasn't always that way.

In fact, the lack of interaction was one of the main factors that led me and their mum to seek a diagnosis for them. Both boys often seemed distant, uninterested in anything we tried to do.

It felt like they spent most of their time off in their own world…

HUMOR
On George Saunders's writing cabin
—
in
"You know who has a Substack?" my friend Arthur told me one afternoon. "George Saunders."

"I love George Saunders," I said.

That night, I subscribed to George Saunders's Substack. That's where I saw the cabin. And this is what I thought when I saw it:

Fuck you, George.
FOOD & DRINK
Michael Procopio fixes a late-summer night's drink that you won't be able to put down
—
in
,
recommended
by Nic Miller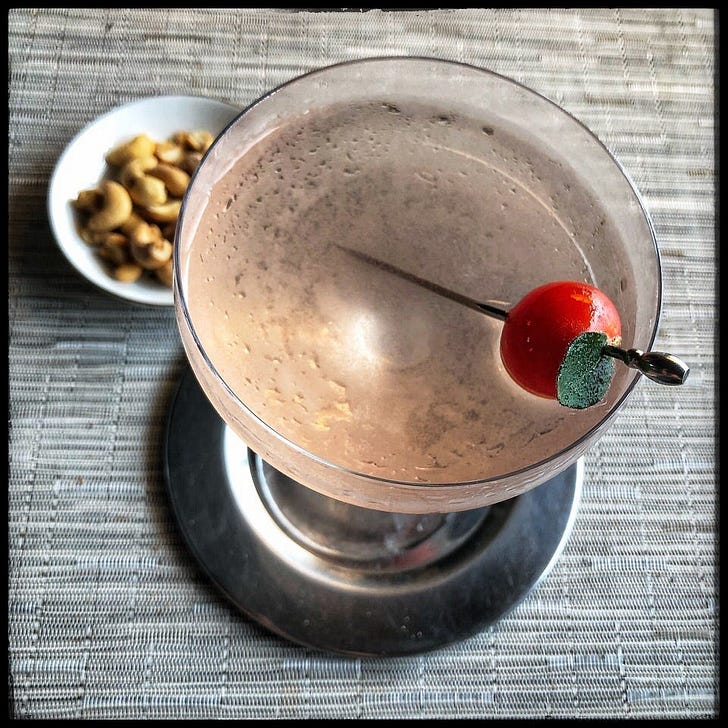 I'm fairly certain I missed tomato season last year just like I missed cherry, apricot, and peach season. It was an especially hectic late spring and summer, what with people dropping dead and whatnot. But this year I was absolutely determined not to miss any of my favorite in-season fruits. Especially tomatoes.

I've eaten a κώλος-load of Greek salads, made batches of tomato sauce with meatballs, and topped my morning bagels with hummus and thick, dripping slices of Brandywines. I've grilled and fumbled charred, bursting Beefsteaks, and strained my left forearm with all the lashings of specially-ordered Duke's mayonnaise I've inflicted upon white bread when making endless plates of tomato sandwiches. If there is a way to ingest tomatoes, I'm generally for it.

One vehicle for tomato intake I'd never much considered until now, however, was booze.
Holly Huitt remembers the summer after which she would never return to Garrison Arena
—
in
,
recommended
by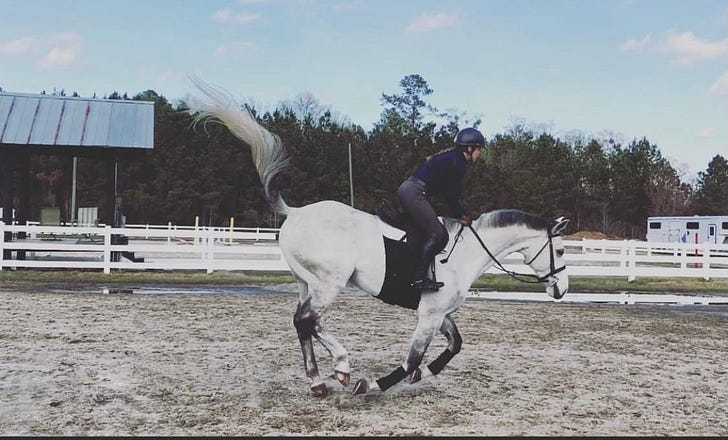 Here's what I remember about the crime: someone, for reasons unknown, snuck into the stalls of four horses, all belonging to one owner, on Saturday night after everyone had left. They sheared off the tails of each of the horses, right beneath their tailbone, and left. The owners were baffled—they couldn't imagine who or why anyone would've done this. They were also devastated. Cutting a horse's tail off is painless but inhumane. They use their tails to keep away flies, mosquitoes, and anything else that tries to bite them—in South Carolina, bug season is year-round, and so the tails are essential.

But more than that—in the show world, a horse's tail is an emblem of superiority. So much so that often riders will braid in a length of fake tail—like hair extensions for humans—to make the tail look fuller. Some tails are carefully "banged" at the bottom—meaning cut in an exacting horizontal line mere inches above the ground—to give them a full appearance. They are shampooed, conditioned, and sprayed with silicone sprays and high-shine mists. It sounds absurd, I know, but, objectively speaking, a horse's tail is mesmerizing. It's expressive. It waves and bounces and swirls. It can serve as a warning—windmilling and twitching means bad things are coming. A red ribbon tied to it means stay away—this horse will kick you.
POETRY
Stephanie Danler is making her way through the poems of A Cold Spring 
—
in
The Complete Poems 1927-1979 by Elizabeth Bishop—I took very few poets with me out to the desert in June, but I'm having a Bishop Summer (is there anything less sexy than a "Summer of Bishop and McMurtry?"). While making my way through the poems of A Cold Spring, I started listening to Kamran Javadizadeh's Close Readings poetry podcast. He did a wonderful episode on "Over 2,000 Illustrations and a Complete Concordance" with Gillian White that I highly recommend you check out. Read the entire poem if you're interested, but I'll quote the ending below—tell me you aren't in the presence of wild greatness:

Everything only connected by "and" and "and."

Open the book. (The gilt rubs off the edges

of the pages and pollinates the fingertips.)

Open the heavy book. Why couldn't we have seen

this old Nativity while we were at it?

—the dark ajar, the rocks breaking with light,

an undisturbed, unbreathing flame,

colorless, sparkless, freely fed on straw,

and, lulled within, a family with pets,

—And looked and looked our infant sight away.
LOCAL NEWS
In her Substack, Mayor Michelle Wu of Boston outlines how changing her approach to tent populations required multiple facets of the city to club together 
—
in
Today the rooms and spaces at the Long Island public health campus still look eerily frozen in time, with papers and clothing scattered all over, left behind when everyone boarded a bus for the mainland for the last time with all they could carry. At the time of the shutdown, I was a freshman City Councilor living in the South End, and I remember the chaos and confusion as neighbors tried their best to help when hundreds of cots were set up as emergency sleeping space in the South End Fitness Center gym, then watched as what was promised to be a temporary new shelter built at Southampton Street and recovery services relocated near Boston Medical Center became permanent parts of the neighborhood.
Recently launched
Author
joins Substack: 
Coming soon
Congratulations to the following writers celebrating publication. 
shares the announcement of his book, Learning to Disagree: The Surprising Path to Navigating Differences with Empathy and Respect, published by Zondervan in April 2024 and available to preorder:
Substackers in the press
of
is among Fast Company's
Most Creative People
of the year.
Author
writes about his experience on Substack in the past year
for The Bookseller
.
and his team
celebrate a new valuation and expansion
, as covered by The Guardian.
's book No Meat Required was reviewed
in The Atlantic
.
What's happening in Notes
Writers are testing out the new audio transcription tools:
is in search of more weird medieval art:
And
shared his tips on using Notes:
Substack Reads is a weekly roundup of writing, ideas, art, and audio from the world of Substack. Posts are recommended by staff and readers, and curated and edited from Substack's U.K. outpost by Hannah Ray.
Got a Substack post to recommend? Tell us about it in the comments.