Discover more from Substack Reads
Your guide to great writing happening on Substack, plus the home of "The Active Voice," a podcast by Hamish McKenzie.
Substack Reads: An American in Rome, the NBA's schedule release, and descending through clouds
Hello! This week we travel from the heart of modern Italy, with Michael Ian Black, to the banks of Ireland's Galway and its perception through history, and new-to-Substack writer and interior designer Marissa Cox helps us style our homes the Parisian way. We wrap the heady explorations with a descent through the clouds, courtesy of Nathan Slake's fictional excerpt—a Substack Reads first.
Thanks to all the readers who recommended posts for this edition, many on the theme of travel. The replies to our note calling for submissions is well worth a full weekend read-through: 
On to this week's selection. Enjoy!
TRAVEL
As writer Michael Ian Black travels with his wife around Italy, he contemplates what it means to miss home, why he feels a sense of freedom, and what America can learn from Italy
—
in
,
via Katie
It can be frustrating for an American couple to arrive in Rome and discover that everything isn't available now, now, now! Sometimes you have to wait. Maybe you have to wait longer than you might like. Either you make that adjustment or you do not. We made it and life felt better having made it. There is much to be said for American efficiency and much to be said for American availability, but there is just as much to be said for taking one's time, for sidestepping the constant chomping maw of American consumerism, for languid lunches with emails unchecked. No American cannot spend much time in Italy, I think, without coming to the conclusion that these people have figured out at least a few things about life. I suppose any culture that has survived two thousand years learns something along the way. Of course, I'm romanticizing Italy. But isn't that why one travels? We go away in order to absorb the best of a place and to be changed for the better by it.
SPORTS
Tom Haberstroh finds meaning and stories behind the data in the NBA season schedule release
—
in
Every year around this time, the league office places their bets on who's going to be good and who's not going to be good for the upcoming season. To be more precise, they're picking who they think will draw eyeballs and who won't. Fans like to see winners, but some teams are more compelling than others.

So which teams did the NBA prioritize? The tell is the league's national TV game allotment. The league's broadcasting power brokers put their heads together and figure out how to divvy up the 100-plus national TV slots among the ESPN, TNT and ABC channels. The NBA is a business, so the goal is to make the most money. Advertisers want eyeballs and advertisers pay big dollars for those eyeballs. 
INTERIORS
A British writer and interior designer living in Paris, Marissa Cox shares her fundamentals for creating a Parisian-style space on a budget in her new Substack of design tips
—
in
I'm starting with tapestries, as these are decidedly French, plus the wall hangings and tapestry print fabric have been having a moment of late. Ever since I decided to reupholster a client's armchair and my headboard in Dedar's Schwarzwald fabric, I've been seeing the print and vintage tapestries popping up on walls and in the shape of cushions everywhere; even Anthropologie now has a collection of tapestry-inspired furniture (I particularly like the mirror). While I prefer not to follow trends, this is one that I'm on board with, as tapestries and tapestry fabric are so timeless—they've literally been around for centuries. Traditionally woven by hand on a loom, tapestry comes from the Old French word for tapisserie: tapisser, meaning "to cover with heavy fabric, to carpet." They are made to last, which is why you can find such old pieces today and also why it makes a great fabric to reupholster with.
HISTORY
In his Moleskine notebooks series, M.E. Rothwell invites readers to explore a faraway place through cartography, art, and poetry
—
, in
"There is a feel about Galway you can wear around your shoulders like a cloak. It hangs in the air with its dampness; it walks the cobblestone streets and stands in the doorways of its gray stone buildings. It blows in with the mist from the Atlantic and lingers incessantly at every corner. I have never been able to walk the streets of Galway without feeling some unnamed presence accompanying me."

―Claire Fullerton, Dancing to an Irish Reel (2015)
RELATIONSHIPS
Turning down advances from married men has shone an unexpected light on sex and relationships in midlife for Annie. And it's not what you might think...
—
in
Trance-like, I stepped inside, closed the door and giggled nervously. I have no idea what I was thinking. But I was suddenly aware of not only a strong feeling that I didn't wish to get a reputation as a "shower shagger" at my gym—but also that the man who had just dropped his pants and turned on the shower faucet was well known for being happily married.

Unsure how to broach this, I decided on candour.

"But you're married!" I blurted.

The impact of my words was instantaneous. His sheepish grin faded, replaced by the haunted look of someone who has just come to from a nightmare. He ran his hands over his face and through his hair.

"Shit," he said. "You're right. What the fuck am I doing?"
PHOTOGRAPHY
Considering herself a photographer of the frivolous, Dina Litovsky recalls the day she was first emailed an assignment for National Geographic and why—seven years on—it's still her favorite to date  
—
in
It was a sweltering 90 degrees when I landed in Branson, an anachronistic town in the Ozarks full of country music venues and oddball attractions like the Dolly Parton's Stampede. It was an appropriately bizarre setting for an event billed as the World's Largest Santa Convention, consisting of 750 Santa Claus impersonators, their wives and one real reindeer. These were not your average shopping mall Santas. These guys were professionals. They had long, carefully groomed real beards. Fake beards were for posers.

The highlight of the five-day bonanza was the Parade of the Red Suits. All the Santas were dressed in full holiday gear, and they were overheating. Brownie the Reindeer had to be cooled down with a portable fan as he made his way through the city's streets.

I had one major rule when photographing the convention: Don't get seduced by the easy allure of the suit, making it the focus of the images. I aimed to present my subjects as individuals—not just professional Santas. I searched for interesting interactions, offbeat moments. One of my favorite images is of Santa Steven as he lounges by the pool, having finally discarded his heavy winter coat. His luxurious beard, red trunks and regal stature are the only signifiers of his profession.
FICTION
Nathan Slake shares another slice from his serialized novel, Precipice. Fragment synopsis: After a short stay in Vi, Jisa makes the journey back home
—
, in
,
recommended by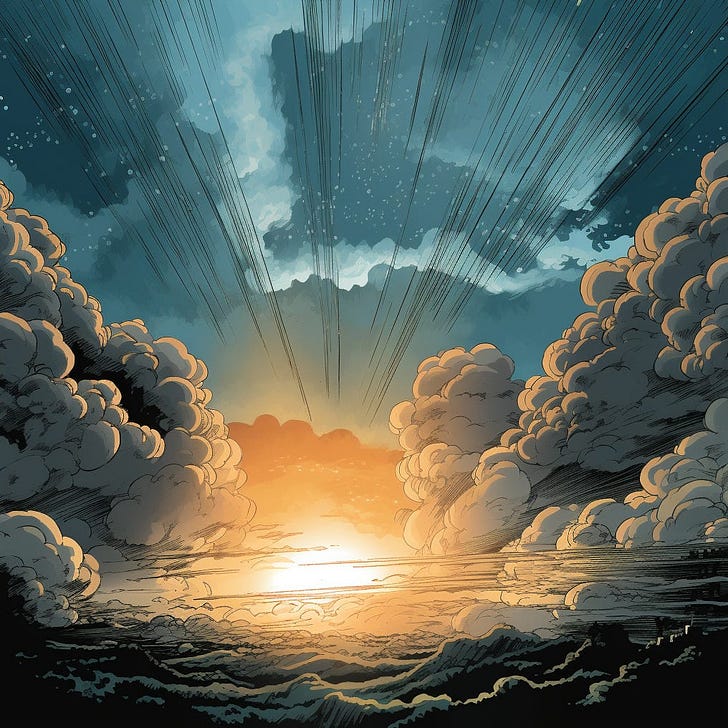 The shuttle console beeps, interrupting my thoughts. Cloud looks down and touches a screen.

"It's time," he says. "We're far enough out."

"So long, sky," I say, wondering how long it will be until I see this sight again. If I will see it again. With a final glance over my shoulder, I take in the deep ember of this unknown place.

We begin to descend, plunge into the clouds at speed, into a darkness where all that remains is the soft blue of the ship's lights. And with the dark so too comes the rain, the steady tears of the world. The shuttle rumbles, unsteady. We lurch and for one quick moment I lose my stomach, my hand darting to Cloud.

"Just turbulence," he says, eyes on the multitude of panels. "We'll be out of it soon enough."

Another lurch. The craft pitches and then drops. I unclamp my fingers from Cloud and sit on them to keep them still. Just turbulence, I think. Stupid turbulence.
Recently launched
Substackers in the press
's success story on Substack was
featured in the Press Gazette this week
. 
The Washington Post published this story about fashion newsletters and the "commodification of taste," mentioning Substack writers
,
, and
.
Coming soon
Congratulations to the following writers celebrating publication. 
launches her new cookbook for feeding toddlers:
talks about the cookbook he always wanted to write but that publishers never responded to—until Thursday:
is promoting her book Touched Out:
anticipates her novel's imminent publication:
What's happening in Notes
This writer is celebratory moving to working on their Substack fulltime:
And writers respond to our challenge to describe the end of summer, and that back-to-school feeling: 
Substack Reads is a weekly roundup of writing, ideas, art, and audio from the world of Substack. Posts are recommended by staff and readers, and curated and edited from Substack's U.K. outpost by Hannah Ray.
Got a Substack post to recommend? Tell us about it in the comments.